About Cambridge
Cambridge is a university city and the county town of Cambridgeshire, England, on the River Cam approximately 50 miles (80 km) north of London. At the United Kingdom Census 2011, its population was 123,867, including 24,488 students.
There is archaeological evidence of settlement in the area in the Bronze Age and in Roman Britain; under Viking rule, Cambridge became an important trading centre. The first town charters were granted in the 12th century, although city status was not conferred until 1951.
The University of Cambridge, founded in 1209, is one of the top five universities in the world.[6] The university includes the Cavendish Laboratory, King's College Chapel, and the Cambridge University Library. The city's skyline is dominated by the last two buildings, along with the spire of the Our Lady and the English Martyrs Church, the chimney of Addenbrooke's Hospital and St John's College Chapel tower. Anglia Ruskin University, evolved from the Cambridge School of Art and the Cambridgeshire College of Arts and Technology, also has its main campus in the city.
Cambridge Guildhall is a listed building designed in 1939 by Charles Cowles-Voysey in the centre of the historic city of Cambridge, England.[1] It includes two halls, The Large Hall and The Small Hall, and is used for many disparate events such as comedy acts, conferences, craft fairs, live music, talks, and weddings. It is also used by University of Cambridge for certain examinations. It is owned and managed by Cambridge City Council, and it is their seat of government.
The Guildhall is located on the south side of Market Hill, the market square in Cambridge, between Peas Hill to the west and Guildhall Street to the east.
Jobseeker Information
Jobseekers that we attract can include anyone from school leavers, graduates, people who have been made redundant and those who are just generally unemployed and looking to get back into work. They will be from the ages of 16-65.
Size of Stand
The stand itself is 2m x 1m and there is plenty of room behind and to the sides to put any pop-up banners you may want to use, power will be provided on the day, and there's plenty of space in front of the stand to talk too all the candidates on the day.
Number of staff needed
You can bring as many staff members as you want to man your stand. The majority of companies in the past have brought 2-3 people.
How we promote this event
Press adverts in the Cambridge News.
Social media campaigns on Facebook and Twitter.
Local Job Centre Plus engagement.
Promoted through local colleges and universities.
Promoted to local job clubs.
Any additional extras e.g. press releases, radio interviews, posters and flyers in libraries, councils etc.
Sectors/Industries that attend
Businesses that attend are from a variation of sectors. Sectors can include those from sales, retail, healthcare, engineering, manufacturing, apprenticeships, education, fostering, security, finance, training, and so on.
How to set up your stand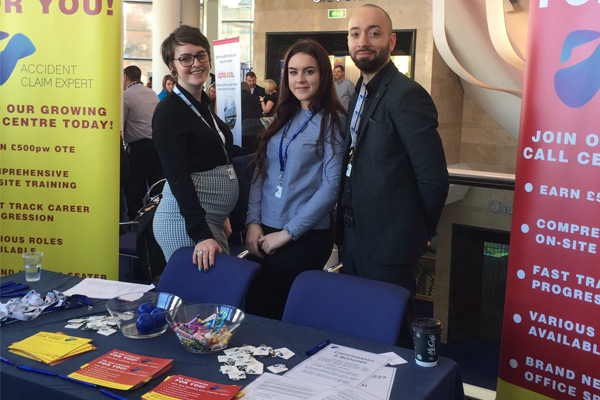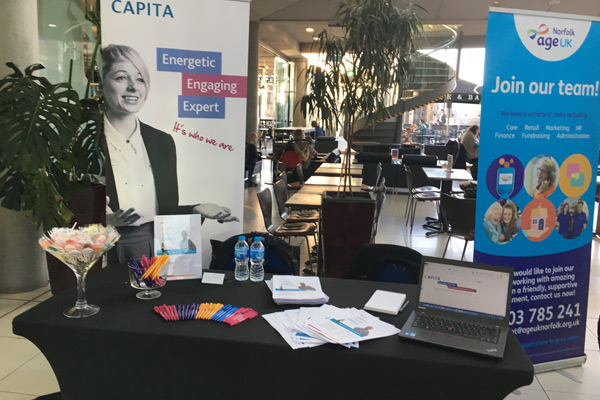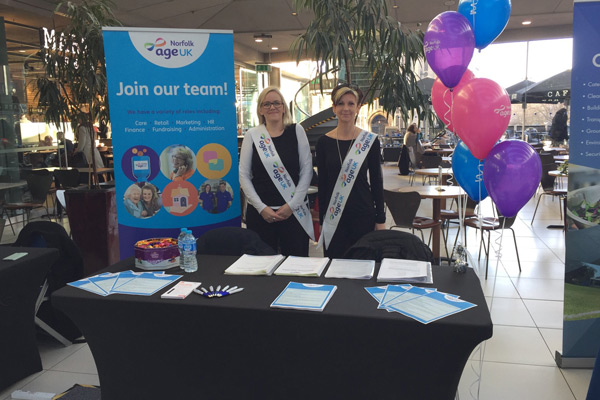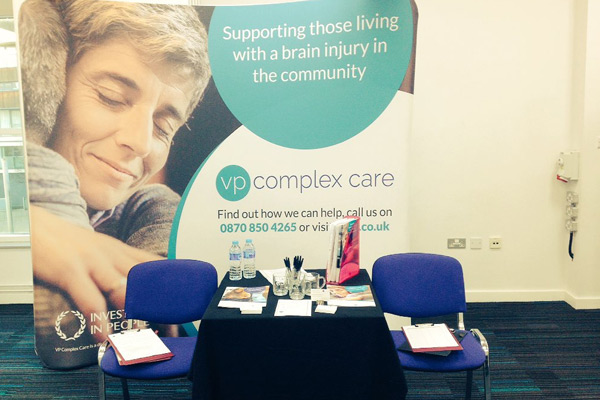 Testimonials from
previous Cambridge customers
"Good event, not only for recruiting but also for networking" - Wagamama, 31/03/2017
"We found the event very useful and have met lots of good people" - Huttie Group, 31/03/2017
"Very helpful, we have already booked for another" - Hales Group, 31/03/2017
"Good advertising and lots of visiting candidates" - Firstpoint Homecare, 31/03/2017
"It was a busy, well organised event" - Futures Advice, 31/03/2017
"Always busy with a range of candidates. The Job Fair staff were very friendly and helpful" - Booking.com, 31/03/2017
Previous Cambridge Events
Cambridge Jobs Fair - 31st March 2017

Cambridge Jobs Fair - 16th August 2017
Some previous clients of Cambridge