About Colchester
Colchester is an historic market town and the largest settlement within the borough of Colchester in the county of Essex.
At the time of the census in 2011, it had a population of 121,859, marking a considerable rise from the previous census and with considerable development since 2001 and ongoing building plans; it has been named as one of Britain's fastest growing towns.[2] As the oldest recorded Roman town in Britain, Colchester is claimed to be the oldest town in Britain.[3] It was for a time the capital of Roman Britain, and is a member of the Most Ancient European Towns Network
Colchester Town Hall
Our outstanding function rooms are all beautifully decorated with ornate and original features such as stained-glass windows, oil paintings and murals which are still used for their original purpose.
They are all licensed for Ceremonies and Receptions. This makes Colchester Town Hall the ideal backdrop for your wedding as the architecture and surroundings are unlike anything else you will see in the area.
Jobseeker Information
Jobseekers that we attract can include anyone from school leavers, graduates, people who have been made redundant and those who are just generally unemployed and looking to get back into work. They will be from the ages of 16-65.
Size of Stand
The stand itself is 2m x 1m and there is plenty of room behind and to the sides to put any pop-up banners you may want to use, power will be provided on the day, and there's plenty of space in front of the stand to talk too all the candidates on the day.
Number of staff needed
You can bring as many staff members as you want to man your stand. The majority of companies in the past have brought 2-3 people.
How we promote this event
Press adverts in the Daily Gazette Series.
Social media campaigns on Facebook and Twitter.
Promoted by the Town Hall.
Local Job Centre Plus engagement.
Promoted through local colleges and universities.
Promoted to local job clubs.
Any additional extras e.g. press releases, radio interviews, posters and flyers in libraries, councils etc.
Sectors/Industries that attend
Businesses that attend are from a variation of sectors. Sectors can include those from sales, retail, healthcare, engineering, manufacturing, apprenticeships, education, fostering, security, finance, training, and so on.
How to set up your stand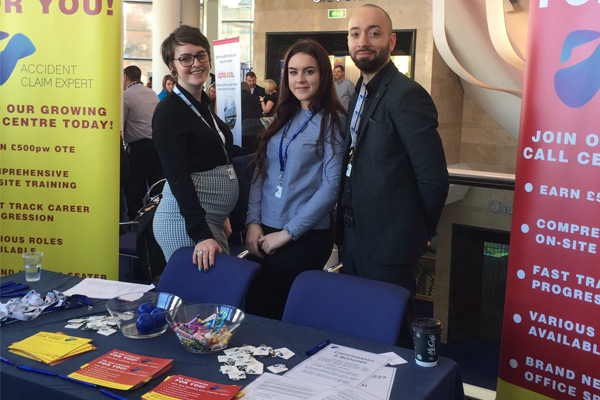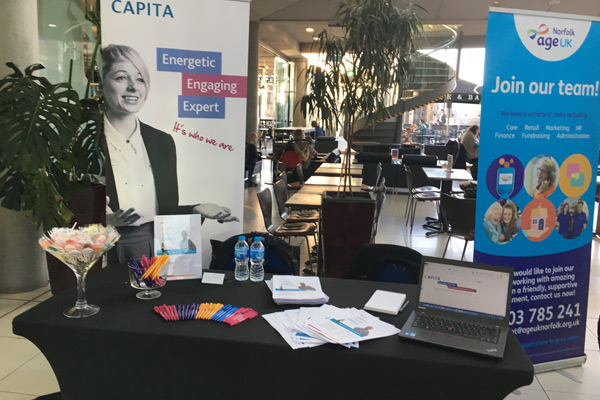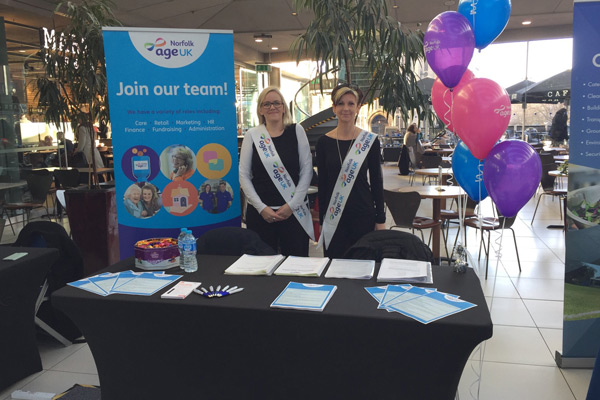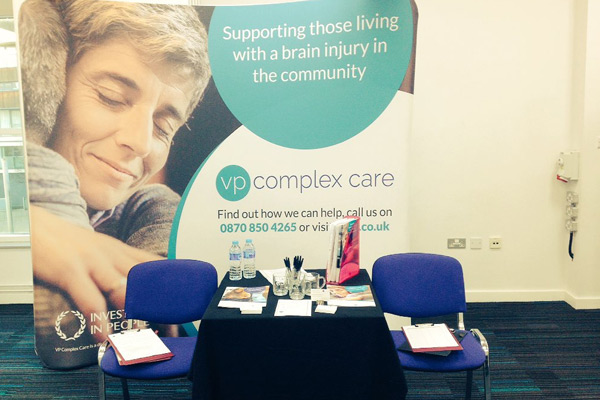 Testimonials from
previous Colchester customers
"The footfall was encouraging. There was also a variety of clients and we were able to get the word out about apprenticeships" – Colchester Institute, 15/02/2017.
"Good volume of people walking through, the candidates were engaging and we got some interested people out of it" – Essex Fire and Rescue Service, 15/02/2017.
"We have seen a wide range of people today and we did employ somebody from last years event" – Waldegraves Holiday Park, 15/02/2017.
"We received a high number of visitors to our stand today" – Colchester Hospital, 15/02/2017.
"There was a good footfall today and we would be interested in any other Colchester events you have" – Essex Cares, 15/02/2017.
Previous Colchester Events
Colchester Jobs Fair - 15th February 2017

Colchester Jobs Fair - 21st June 2017

Colchester Jobs Fair - 27th September 2017
Some previous clients of Colchester