About Gloucester
Gloucester is a city and district in southwest England, the county city of Gloucestershire. Gloucester lies close to the Welsh border, on the River Severn, between the Cotswolds to the east and the Forest of Dean to the southwest.
Economically, the city is dominated by the service industries, and has a strong financial and business sector, and historically was prominent in the aerospace industry.
Gloucester Guildhall is a thriving entertainments venue and events space situated in Gloucester City Centre.
We host live music, comedy, theatre, film, exhibitions and talks, and have various rooms available to hire for functions and meetings to cater for numbers up to 400. 
King's Walk car park is directly next to Gloucester Guildhall with access to the venue from the roof. Parking is free after 5pm.
Jobseeker Information
Jobseekers that we attract can include anyone from school leavers, graduates, people who have been made redundant and those who are just generally unemployed and looking to get back into work. They will be from the ages of 16-65.
Size of Stand
The stand itself is 2m x 1m and there is plenty of room behind and to the sides to put any pop-up banners you may want to use, power will be provided on the day, and there's plenty of space in front of the stand to talk too all the candidates on the day.
Number of staff needed
You can bring as many staff members as you want to man your stand. The majority of companies in the past have brought 2-3 people.
How we promote this event
Social media campaigns on Facebook and Twitter.
Local Job Centre Plus engagement.
Local Seetec and People Plus offices promoting.
Promoted through local colleges and universities.
Promoted to local job clubs.
Any additional extras e.g. press releases, radio interviews, posters and flyers in libraries, councils etc.
Sectors/Industries that attend
Businesses that attend are from a variation of sectors. Sectors can include those from sales, retail, healthcare, engineering, manufacturing, apprenticeships, education, fostering, security, finance, training, and so on.
How to set up your stand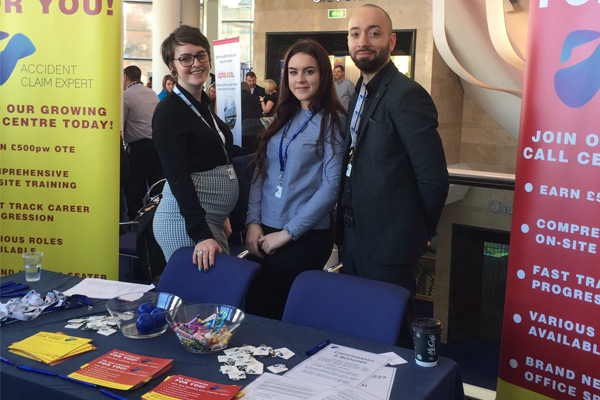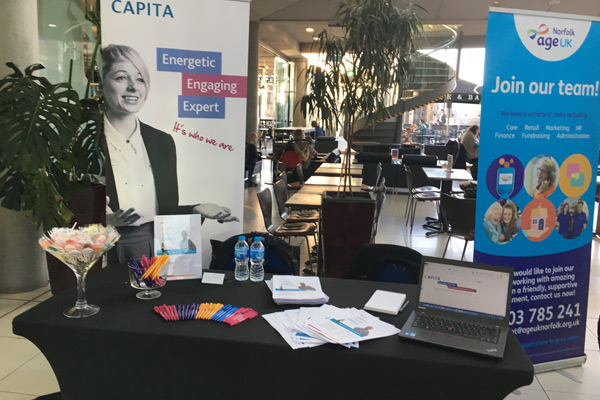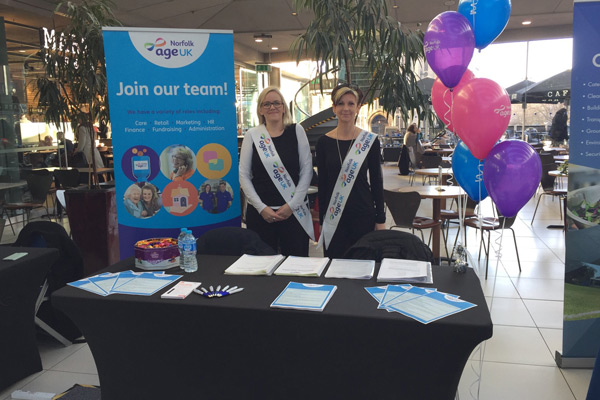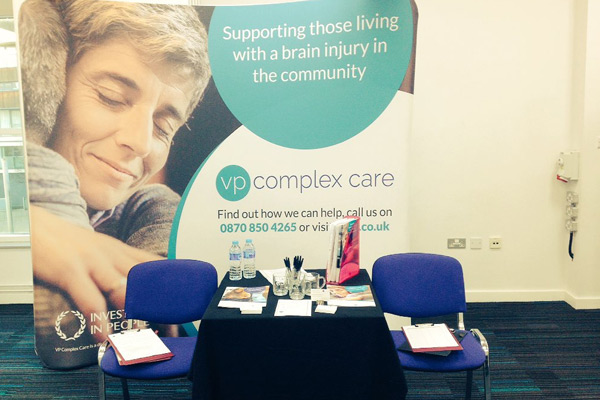 Testimonials from
previous Gloucester customers
Great Opportunity to contact candidates directly. Well organised." Betfred, 01/03/2017.
"Good candidates and a good amount of them! Good central location." TSB, 01/03/2017.
"Good variety of skillsets and interest from prospective candidates." Home Bargains, 01/03/2017.
"The event went very smoothly and it was easy to attend and set up. Great turnout." National Star, 01/03/2017.
"Busiest Jobs Fair I have attended to date." Voyage Care, 07/06/2017.
"The event was very well organised and the event coordinators were very approachable, the quality of jobseekers was also very high!" SSE, 07/06/2017.
Previous Gloucester Events
Gloucester Jobs Fair - 1st March 2017

Gloucester Jobs Fair - 7th June 2017

Gloucester Jobs Fair - 6th October 2017
Some previous clients of Gloucester