About Leicester
Leicester  is a city and unitary authority area in the East Midlands of England, and the county town of Leicestershire. The city lies on the River Soar and close to the eastern end of the National Forest.
Leicester is the home to football club Leicester City, a club that caused a major upset by winning the 2016 Premier League title, the first new English championship winners for several decades at the time.
Curve is a theatre in Leicester, England, based in the Cultural quarter in Leicester City Centre. Before being named Curve, it was referred to as Leicester Performing Arts Centre. It is adjacent to the Leicester Athena conference and banqueting centre.
The theatre was built by a partnership of Leicester City Council, Arts Council England (with funds from The National Lottery), East Midlands Development Agency, Leicester Shire Economic Partnership,[2] with the project part-financed by the European Union (ERDF), in partnership with Leicester Theatre Trust and in association with Phoenix Arts Centre.
Jobseeker Information
Jobseekers that we attract can include anyone from school leavers, graduates, people who have been made redundant and those who are just generally unemployed and looking to get back into work. They will be from the ages of 16-65.
Size of Stand
The stand itself is 2m x 1m and there is plenty of room behind and to the sides to put any pop-up banners you may want to use, power will be provided on the day, and there's plenty of space in front of the stand to talk too all the candidates on the day.
Number of staff needed
You can bring as many staff members as you want to man your stand. The majority of companies in the past have brought 2-3 people.
How we promote this event
Social media campaigns on Facebook and Twitter.
Press adverts in the Leicester Mercury.
Local Job Centre Plus engagement.
Local Seetec and People Plus offices promoting.
Promoted through local colleges and universities.
Promoted to local job clubs.
Any additional extras e.g. press releases, radio interviews, posters and flyers in libraries, councils etc.
Sectors/Industries that attend
Businesses that attend are from a variation of sectors. Sectors can include those from sales, retail, healthcare, engineering, manufacturing, apprenticeships, education, fostering, security, finance, training, and so on.
How to set up your stand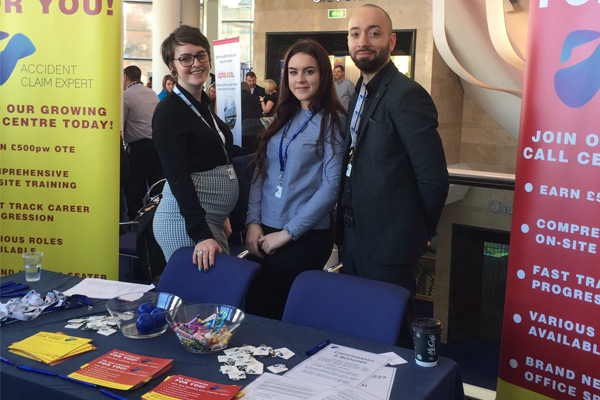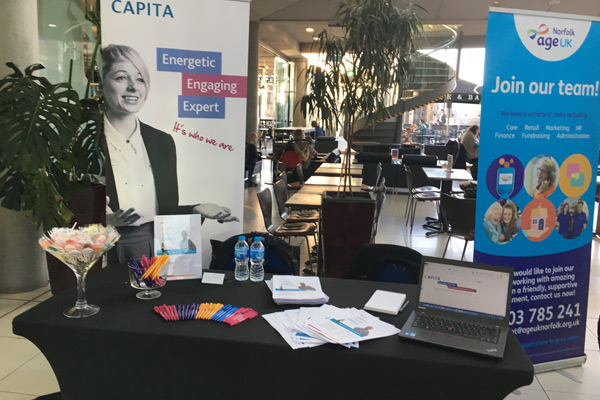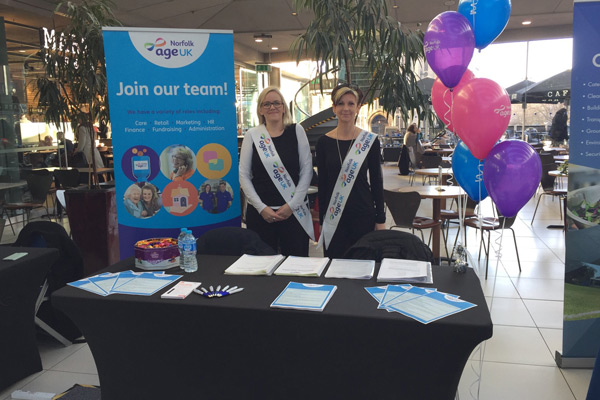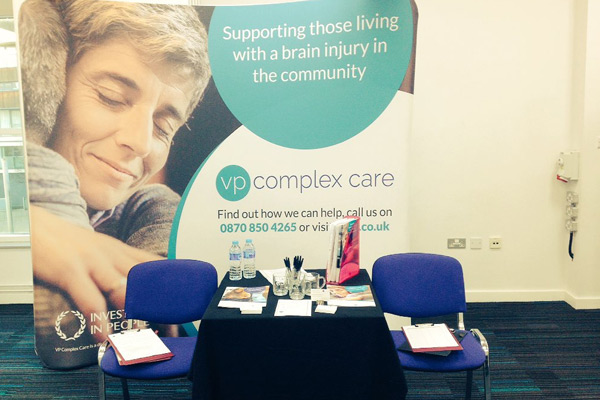 Testimonials from
previous Leicester customers
"Great footfall and a great stand location! The staff were really friendly and the venue was also impressive." – O2 (Celfone Trading), 22/02/2017.
"The Jobs Fair was definitely a great opportunity to meet potential candidates. The Job Fair staff were very well organised and welcoming." – Mimosa Staffing, 22/02/2017.
"Well organised, well equipped in a good location and at an affordable price! We will be sharing your calendar with our other offices." – Juniper Training, 22/02/2017.
"This is a good recruitment tool, the footfall was actually much higher than we expected." – C and C Healthcare, 22/02/2017.
"Great experience for us and we believe we have found some strong candidates today. The Job Fair staff were very helpful and approachable". – Raymond James, 22/02/2017.
"Good flow of people and good exposure for the company." – Nurse Plus, 22/02/2017.
Previous Leicester Events
Leicester Jobs Fair - 22nd February 2017

Leicester Jobs Fair - 28th June 2017

Leicester Jobs Fair - 8th September 2017
Some previous clients of Leicester