About Portsmouth
Portsmouth is a port city and unitary authority in the ceremonial county of Hampshire, England, mainly on Portsea Island, 70 miles (110 km) south-west of London and 19 miles (31 km) south-east of Southampton. It is the United Kingdom's only island city and has a population of 205,400. The city forms part of the South Hampshire built-up area, which also covers Southampton and the towns of Havant, Waterlooville, Eastleigh, Fareham, and Gosport.
Portsmouth Guildhall is a multi-use venue in the centre of Portsmouth, UK, located on a pedestrian square close to the Portsmouth and Southsea railway station. Constructed in 1890 and originally used by the local council, the building was known as Portsmouth Town Hall until 1926. It was heavily damaged by bombing during the Second World War and largely rebuilt during the 1950s. Today it operates as a concert, wedding and conference venue.
Jobseeker Information
Jobseekers that we attract can include anyone from school leavers, graduates, people who have been made redundant and those who are just generally unemployed and looking to get back into work. They will be from the ages of 16-65.
Size of Stand
The stand itself is 2m x 1m and there is plenty of room behind and to the sides to put any pop-up banners you may want to use, power will be provided on the day, and there's plenty of space in front of the stand to talk too all the candidates on the day.
Number of staff needed
You can bring as many staff members as you want to man your stand. The majority of companies in the past have brought 2-3 people.
How we promote this event
Social media campaigns on Facebook and Twitter.
Local Job Centre Plus engagement.
Local Seetec and People Plus offices promoting.
Promoted through local colleges and universities.
Advertised on the 'Portsmouth Big Screen' outside the venue.
Promoted to local job clubs.
Any additional extras e.g. press releases, radio interviews, posters and flyers in libraries, councils etc.
Sectors/Industries that attend
Businesses that attend are from a variation of sectors. Sectors can include those from sales, retail, healthcare, engineering, manufacturing, apprenticeships, education, fostering, security, finance, training, and so on.
How to set up your stand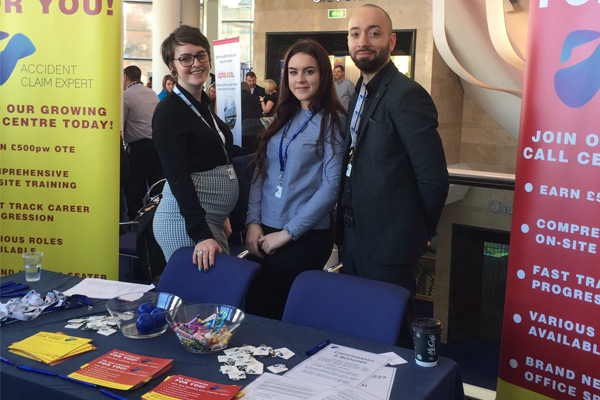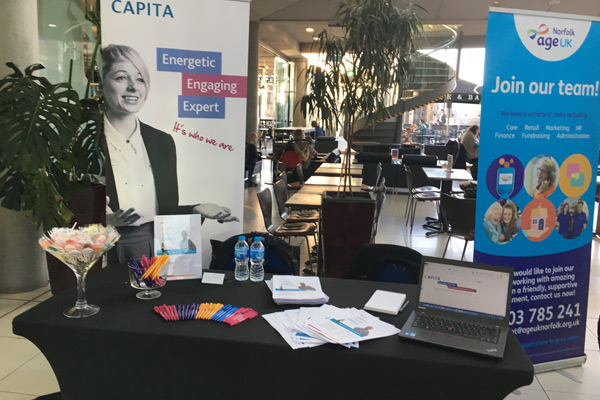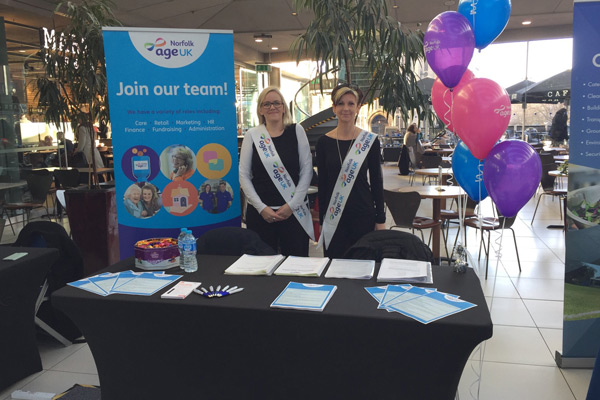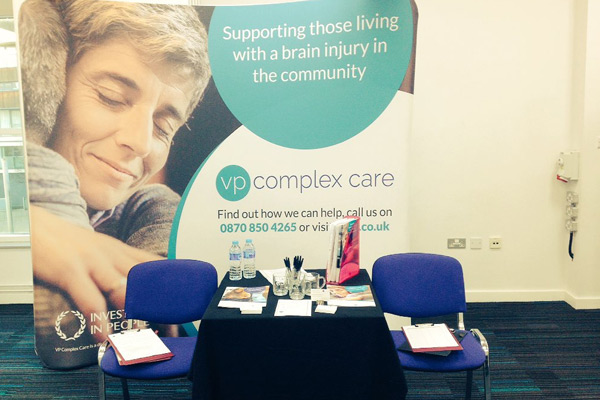 Testimonials from
previous Portsmouth customers
"Great contact with the community and great interaction. Farren was also very friendly and helpful. " (Portsmouth, 08/03/2017) Army Aircorps
"Very busy Job Fair and a good standard of candidates. We have enjoyed our day and would come back to another. " (Portsmouth , 08/03/2017) Somerset Care
"We will recommend this to our management team. This has been a better response than we anticipated! " (Portsmouth, 08/03/2017) South Coast Executive Travel
"Good joining instructions and communication prior to the event and excellent support on the day of the event. " (Portsmouth, 08/03/2017) Affinity Trust
"A professional service at a beautiful building. Decent turnout today. " (Portsmouth, 08/03/2017) Plastic Surgeon
"We've had a very successful day today and we have had some good calibre candidates. " (Portsmouth, 08/03/2017) Care UK
Previous Portsmouth Events
Portsmouth Jobs Fair - 8th March 2017

Portsmouth Jobs Fair - 12th July 2017

Portsmouth Jobs Fair - 1st November 2017
Some previous clients of Portsmouth