Are you a recruiter?
Click here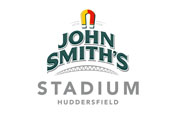 About Huddersfield Jobs Fair
The Huddersfield Jobs Fair is located at the John Smiths Stadium, Stadium Way (via Bradley Mills Road), Huddersfield, HD1 6PQ.
This event attracts a mixture of different employers from various industries all recruiting for local jobs.
The Huddersfield Jobs Fair is a great way to speak with potential employers face-to-face. You can register with employers for jobs, collect info on employers, ask them questions, apply for jobs, or even have a mini interview on the day.
This event is a free ticketed event. Tickets are issued by targeting candidates that match a certain criteria based on the criteria that matches our exhibitors recruiting requirements in a given location.
To be allowed entry to this event, you MUST provide your ticket (Mobile or Printed). Tickets will be scanned on arrival to be able to enter the event.
The employers attending the event will require you to have a right to work (if this applies to you) in the UK to provide job offers. If you are unsure, please check out www.gov.uk
Please note - Employers at this event are NOT offering sponsorship/COS/switch opportunities.
Your ticket admits you entry to the event and MUST be presented at the entrance upon arrival for scanning.
Your ticket MUST be valid for the event date you're attending.
Your ticket is non-transferable.
Your tickets are NOT to be duplicated for the purpose of falsifying entry.
The organiser reserves the right to cancel tickets/refuse entry.
No sponsorship/COS/switch opportunities at our events.
Check out if the venue has free parking, if you're travelling by car.
Top tip - make sure you speak to every exhibitor at the Jobs Fair. You never know what jobs they may have on offer, so, don't just look at their pop ups and think they're not for you, go and have a chat!
John Smiths Stadium
Located 1.5 miles away from the centre of Huddersfield, The Huddersfield Jobs Fair will be taking place at the John Smiths Stadium. Since 1994, it has been the home of The Terriers, Huddersfield Town Football Club and Rugby League side, Huddersfield Giants. 
What the venue offers
Free car parking
Disabled access
WiFi access
Nearby transport links
Where the venue is