About Birmingham
Birmingham is a city and metropolitan borough in the West Midlands, England standing on the small River Rea. It is the largest and most populous British city outside London, with a population of 1,101,360 in 2014.
A medium-sized market town in the medieval period, Birmingham grew to international prominence in the 18th century at the heart of the Midlands Enlightenment and subsequent Industrial Revolution, which saw the town at the forefront of worldwide advances in science, technology, and economic development, producing a series of innovations that laid many of the foundations of modern industrial society.[8] By 1791 it was being hailed as "the first manufacturing town in the world"
Birmingham City Council House
Birmingham, England, is the home of Birmingham City Council, and thus the seat of local government for the city. It provides office accommodation for both employed council officers, including the Chief Executive, and elected council members, plus the council chamber, Lord Mayor's Suite, committee rooms and a large and ornate banqueting suite, complete with minstrel's gallery. The first-floor's exterior balcony is used by visiting dignitaries and victorious sports teams, to address crowds assembled below.
It is located in Victoria Square in the city centre and is a Grade II* listed building.[1] (Birmingham Town Hall is a separate building, built and used as a concert venue, and is of greater architectural significance, being listed Grade I.) The Council House has its own postcode, B1 1BB.
Jobseeker Information
Jobseekers that we attract can include anyone from school leavers, graduates, people who have been made redundant and those who are just generally unemployed and looking to get back into work. They will be from the ages of 16-65.
Size of Stand
The stand itself is 2m x 1m and there is plenty of room behind and to the sides to put any pop-up banners you may want to use, power will be provided on the day, and there's plenty of space in front of the stand to talk too all the candidates on the day.
Number of staff needed
You can bring as many staff members as you want to man your stand. The majority of companies in the past have brought 2-3 people.
How we promote this event
Press adverts in the Birmingham Mail.
Social media campaigns on Facebook and Twitter.
Local Job Centre Plus engagement.
Promoted through local colleges and universities.
Promoted to local job clubs.
Any additional extras e.g. press releases, radio interviews, posters and flyers in libraries, councils etc.
Sectors/Industries that attend
Businesses that attend are from a variation of sectors. Sectors can include those from sales, retail, healthcare, engineering, manufacturing, apprenticeships, education, fostering, security, finance, training, and so on.
How to set up your stand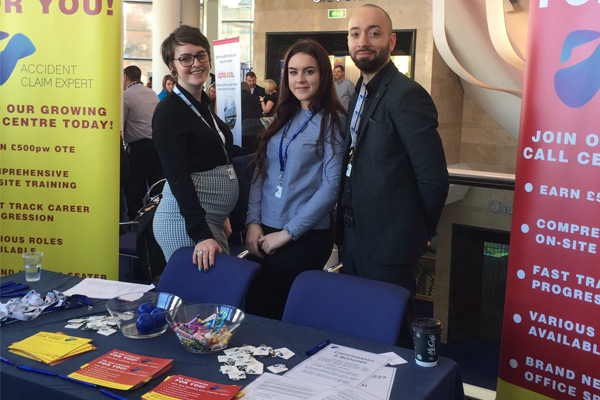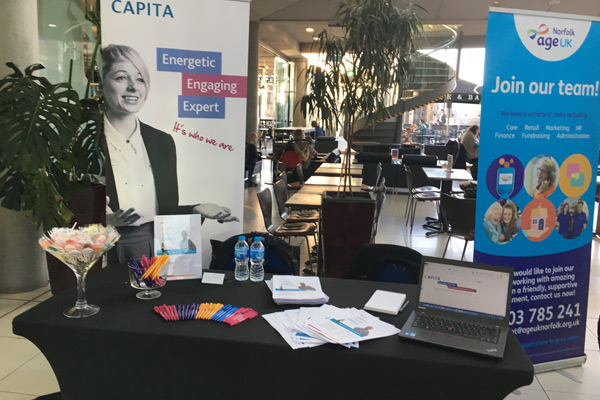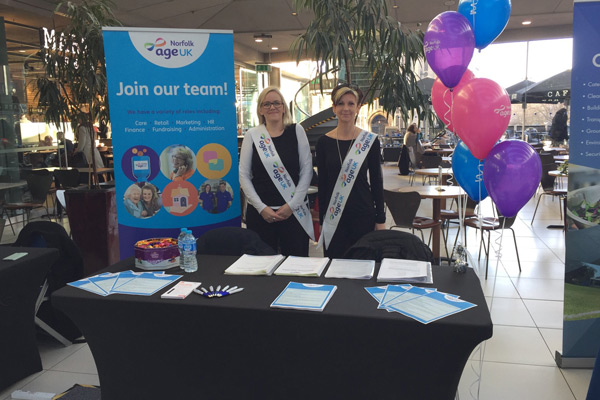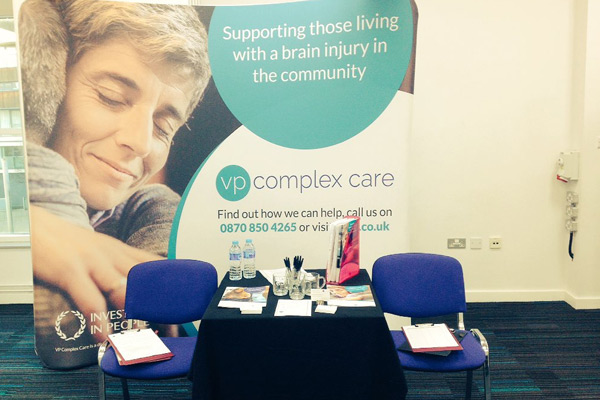 Testimonials from
previous Birmingham customers
"The footfall was good, with a variety of experienced candidates walking through." (Birmingham, 27/01/2017) Legal and General
"This event gave us the opportunity to discuss the unique nature of the industry and hours of work. We are booked in for other Job Fairs in Gloucester, Reading etc." (Birmingham, 27/01/2017) Betfred
"The event was promoted very well and the event got an excellent turnout." (Birmingham, 27/01/2017) Halesowen College
"Really busy as always! Didn't stop talking all day." (Birmingham, 27/01/2017) Virgin Media
"Got a great range of individuals to the event from all different backgrounds. The venue was great and Aaron was very helpful." (Birmingham, 27/01/2017) Barhale PLC
"Very pleasant, quick and easy to sort out and get involved. I was surprised at the turnout on the day, which was very good and met some really lovely people. We will definitely be attending this again." (Birmingham, 27/01/2017) Sitel
Previous Birmingham Events
Birmingham  Jobs Fair  - 27th January 2017

Birmingham Jobs Fair - 19th April 2017

Birmingham Jobs Fair - 26th July 2017

Birmingham Jobs Fair - 27th October 2017
Some previous clients of Birmingham