About Reading
Reading is a large, historically important town in Berkshire, England, of which it is the county town. It was an important trading and ecclesiastical centre in the medieval period, as the site of Reading Abbey, one of the richest monasteries of medieval England with strong royal connections, of which the 12th century abbey gateway and significant ruins remain. The town was seriously affected by the English Civil War, with a major siege and loss of trade, and played a pivotal role in the Revolution of 1688, with that revolution's only significant military action fought on the streets of the town.
Reading Town Hall is the town hall for the town of Reading, in the English county of Berkshire. The town hall was built in several phases between 1786 and 1897, although the principal facade was designed by Alfred Waterhouse in 1875. Situated close to the site of Reading Abbey, it is adjoined to the north by the Hospitium of St John and to the south by St Laurence's Church.[1][2]
No longer the home of the town's administration, the Town Hall now houses the Reading Museum, a large concert hall, several smaller halls and conference rooms, and a public cafe. It is a listed building, with the block designed by Alfred Waterhouse being listed grade II*, whilst other parts of the building are listed grade II
Jobseeker Information
Jobseekers that we attract can include anyone from school leavers, graduates, people who have been made redundant and those who are just generally unemployed and looking to get back into work. They will be from the ages of 16-65.
Size of Stand
The stand itself is 2m x 1m and there is plenty of room behind and to the sides to put any pop-up banners you may want to use, power will be provided on the day, and there's plenty of space in front of the stand to talk too all the candidates on the day.
Number of staff needed
You can bring as many staff members as you want to man your stand. The majority of companies in the past have brought 2-3 people.
How we promote this event
Social media campaigns on Facebook and Twitter.
Local Job Centre Plus engagement.
Local Seetec and People Plus offices promoting.
Promoted through local colleges and universities.
Promoted to local job clubs.
Any additional extras e.g. press releases, radio interviews, posters and flyers in libraries, councils etc.
Sectors/Industries that attend
Businesses that attend are from a variation of sectors. Sectors can include those from sales, retail, healthcare, engineering, manufacturing, apprenticeships, education, fostering, security, finance, training, and so on.
How to set up your stand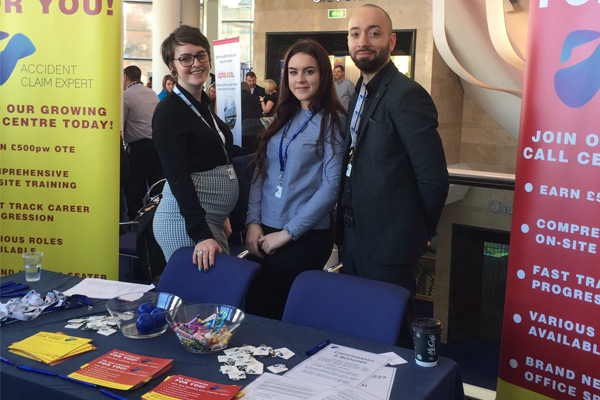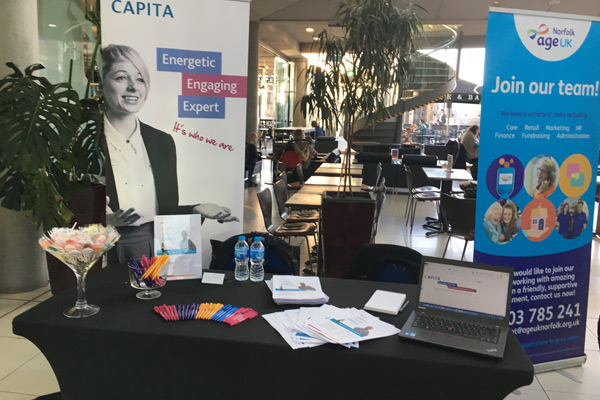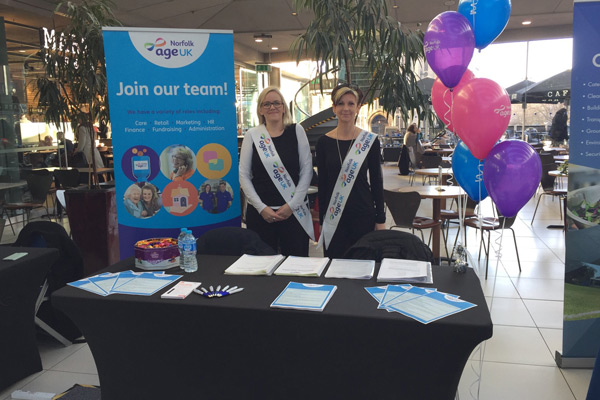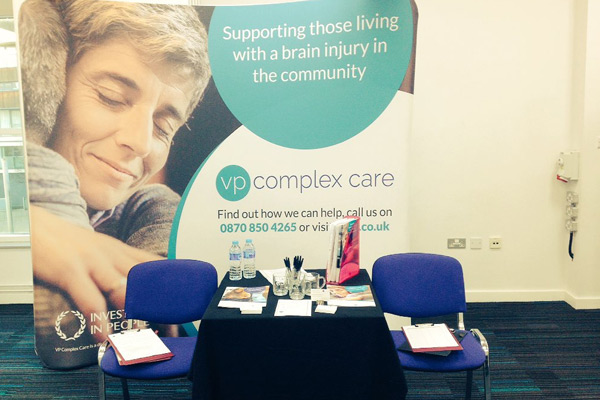 Testimonials from
previous Reading customers
"Had a good response today, staff was very helpful!" – Virgin Atlantic Airways, 08/02/2017.
"The event was very well organised and attracted a good range of motivated jobseekers" – SSE, 08/02/2017.
"Interacted with numerous viable candidates today, it was a nice location with helpful staff" – Source Group, 08/02/2017.
"The day has been very well organised. Lots of people attended and we've got some potential employees. This event has helped with recruiting potential applicants and we would like to attend the Watford Jobs Fair" – Hightown Housing, 08/02/2017.
"From a visiting candidate point of view, this has been very productive. It's been reasonably busy today" – Compass Group, 08/02/2017.
"Good visibility of our stand and there were quality candidates coming through" – Black Jack Promotions, 08/02/2017.
Previous Reading Events
Reading Jobs Fair - 8th February 2017

Reading Jobs Fair - 28th April 2017

Reading Jobs Fair - 28th July 2017

Reading Jobs Fair - 13th October 2017
Some previous clients of Reading